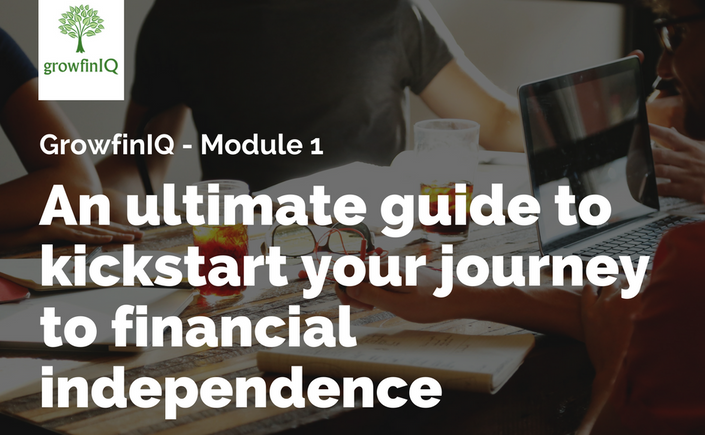 An ultimate guide to kickstart your journey to financial independence
Plan how to stop trading time for money and make your dreams come true
Watch Promo
get in full control of your personal finance and get premium advice from a recognized professional?
learn guaranteed methods that will help you avoid common and costly personal finance mistakes?
achieve security by making smart and proven personal finance decisions?
become financially independent, leave regular work and retire early?
I have designed this course to boost your personal finance skills and get you ahead of the game. Victory loves preparation. Have a look at how I want to prepare you to succeed.
I teach people around the world how to start their journey to Financial Independence. By taking this online class:
You will gain a thorough understanding of your personal financial habits
You will reflect on your spending. We will start improving your habits right away
You will learn how to budget for personal finance like the top 1% of people
You will get in full control of your money and start telling it where it needs to go
You will start following a structured process aimed at Financial Independence
I will show you a detailed, step by step approach to achieving financial independence.
This 4 hour Financial Independence course is based on
Detailed analyses of more than 2200 answers to Financial IQ test that I have designed and put online - average people like you and me have shared their personal finance challenges as well as needs in terms of skills that they want to develop
10 years of building Financial Independence on my own - I have reflected on each and every success and mistake I have made on my road to Financial Independence. I am sharing those lessons with you
12 months of additional research - I wanted this online course to be like no other. I have carefully studied other educational options and designed this course to be the most engaging and effective as it can be
I have taken all those ingredients and invested 90 days to craft this powerful 4 hour online course.
I have designed a proven process to enhance and speed up your road to Financial Independence
There are five stages to achieving Financial Independence
Stage 1 - POOR
Stage 2 - COMFORT ZONE
Stage 3 - PREPARATION
Stage 4 - ASSET BUILDING
Stage 5 - FREEDOM
Watch the video to find out more.
Every road to Financial Independence involves sharp turns, dead ends, and uphills. Take this online course and make YOUR road as smooth as it can be
First of all, taking this online class will make you aware of certain sharp turns on a typical road to Financial Independence. A sharp turn is when you need to change something about you to progress. Have a look at all sharp turns below. Let me also cast some light on one example.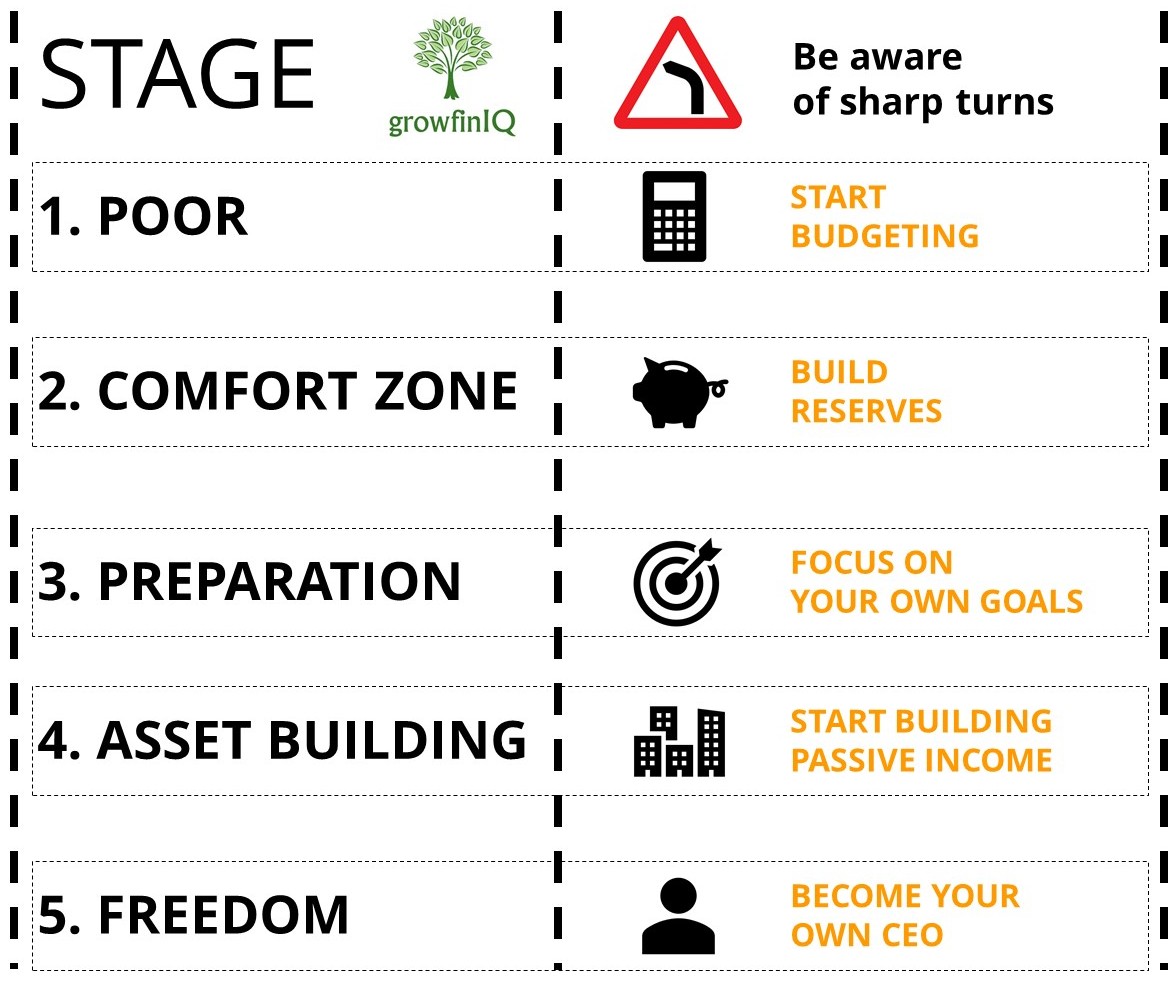 The first sharp turn you will need to enter is "Start budgeting." According to research, 90% of people claim that a personal budget is critical to achieving Financial Independence. Some of you do keep a personal budget. Only a few know how to do it right. In this class, I will share lessons learned from top 1% people with the highest financial IQ. You will also get a tool from me and start budgeting like a pro.
---
In this class, you will also understand dead ends on your road to Financial Independence. A dead end is something you need to avoid. I will show you how to do this. Have a look at all blind alleys. Let me also give you an example.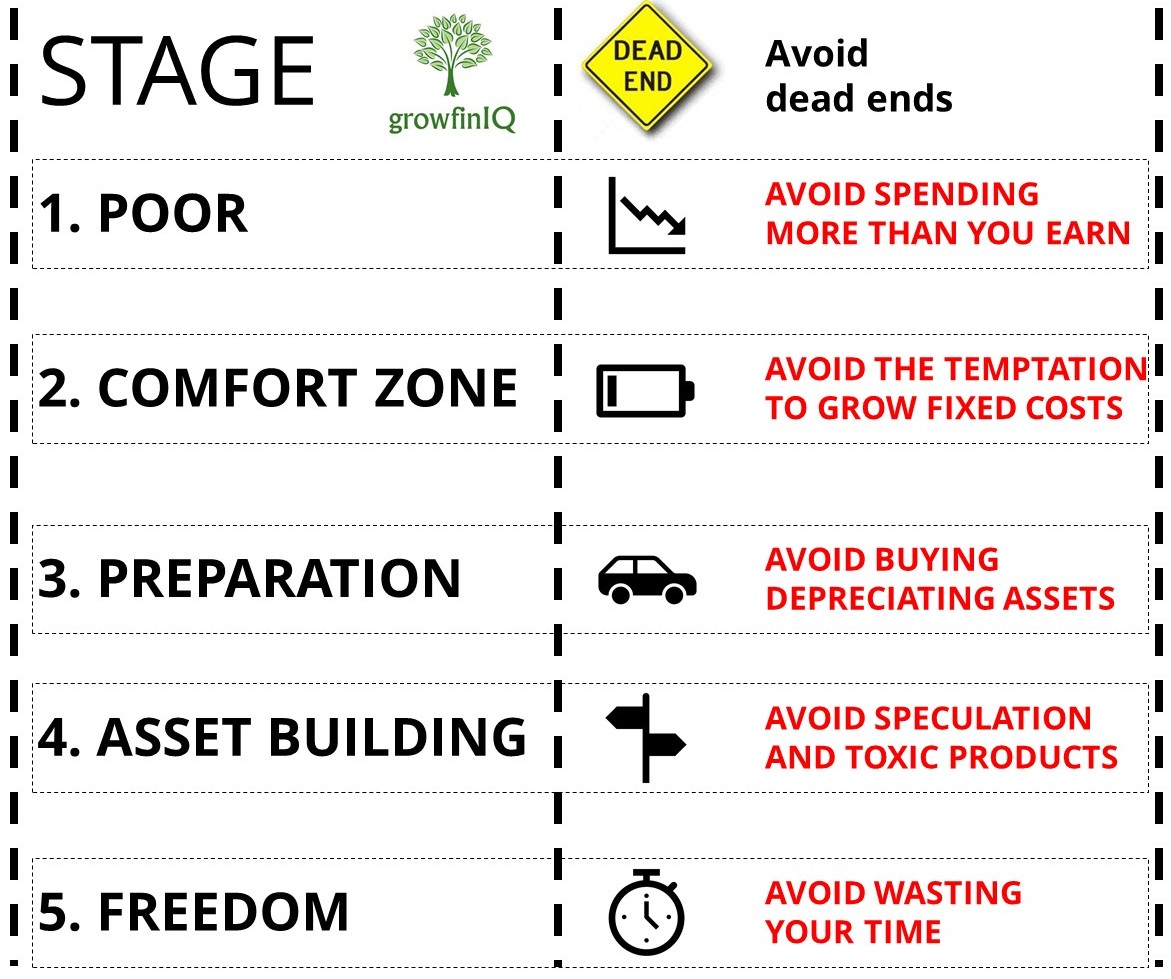 The first dead end you need to avoid is "Avoid spending more than you earn". People have a natural tendency to spend more when they earn more. They are also tempted by retailers to buy various items that they do not need and cannot afford. All those behaviors conflict with getting financially independent. I want you to understand if you are prone to losing your money and help you prevent it.

---
Finally, this online class will help you understand uphills on the road to Financial Independence. An uphill is when you need to put in some extra effort. Have a look at all of them. I have described the most critical one as an example.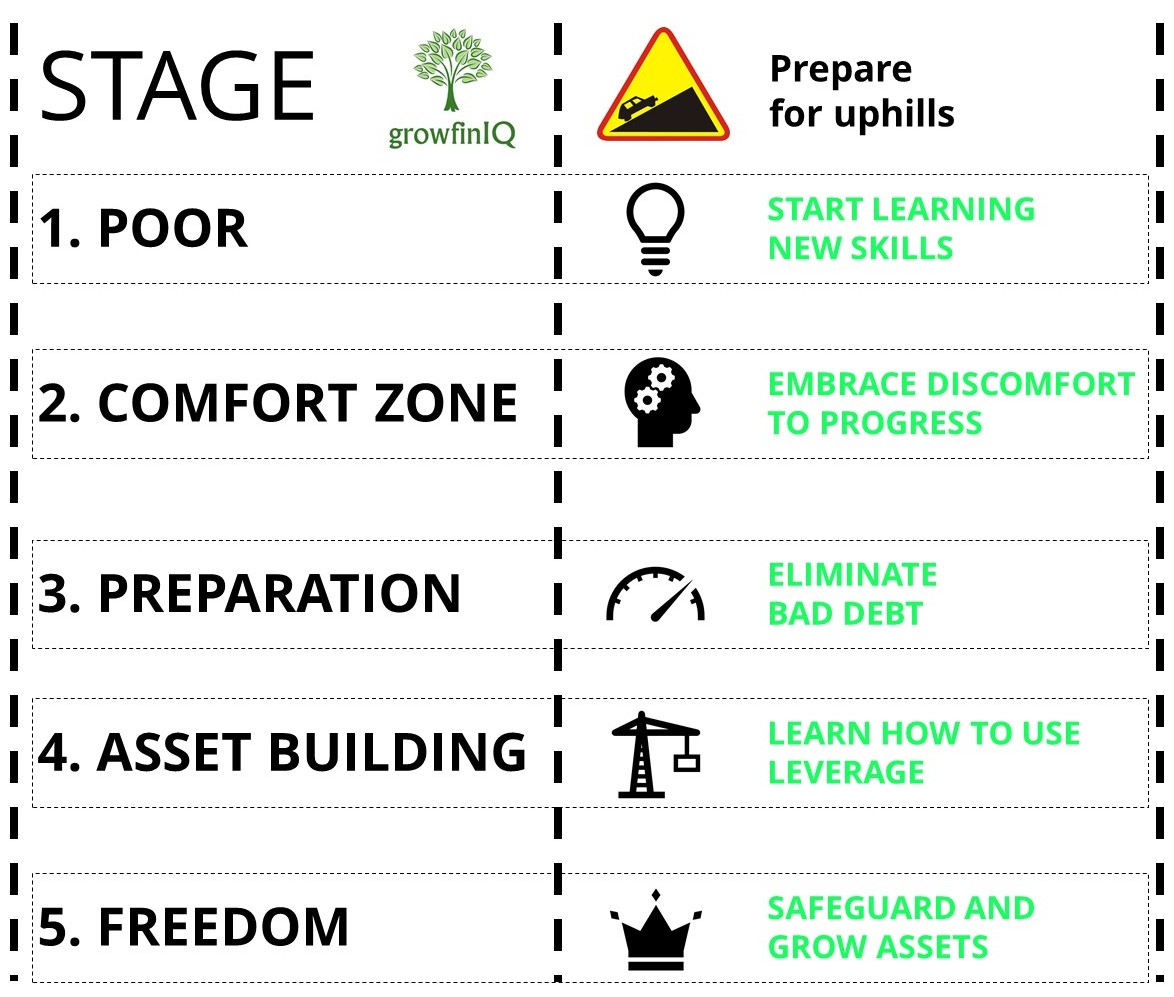 One of the most important uphills of all is "Eliminate bad debt." According to research, bad debt is your number one enemy on the road to Financial Independence. The same research shows that the primary reason why people fall into a bad debt trap is lack of budgeting skills.
This Financial Independence learning is designed around your experience.
You will experience 4-hour great learning designed interactively to boost your engagement and enhance your success towards achieving Financial Independence. Look at how I have developed this learning to keep you busy and make the most of your time.

---
Challenges - I will put your brains to work. You will complete challenges, analyze and reflect on your personal finance.
Case Studies - I will illustrate some fundamental concepts with case studies. You will enter real life scenarios.
Projects - You will use the concepts introduced in this course to complete projects, improve and extend your learning way beyond this 4 hour class.
Use great tools and extend your learning way beyond this online Financial Independence course.
Reaching Financial Independence is a process.I have designed two great tools that you can use along the way. Let me introduce these tools now.
---
First of all, I want you to understand the process to reach Financial Independence. You will use the Financial Independence Road Map to understand your current situation and, more importantly, plan your next best steps.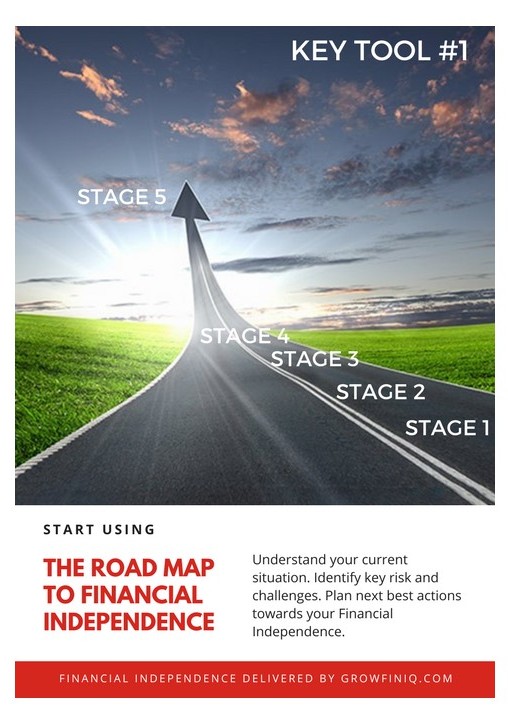 ---
Secondly, you will start using a powerful Financial Independence Dashboard. Using this tool will get you to the top 1% people around the world. You ill stop wondering where your money goes. You will start telling it where it needs to go.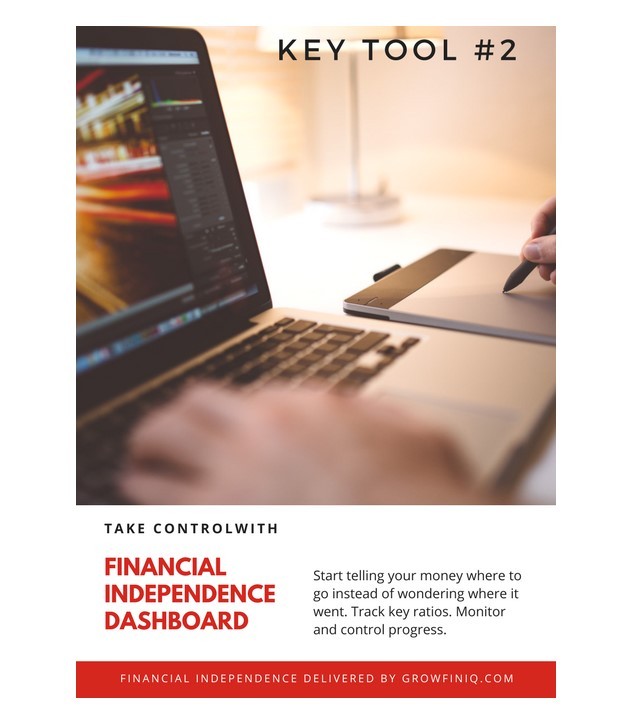 You will discover five power metrics that need to be monitored and improved on your road to Financial Independence
The Financial Independence Dashboard will automatically calculate five power metrics for you. That is not all. I will explain each of the metrics in detail. You will discover:
definition - I will help you in quick understanding of each of the metrics. There is one lecture dedicated entirely to this topic
key lessons learned - I will share lessons learned from the top 1% with the highest Financial IQ to show you those metrics in the right context
Most importantly, I will explain the meaning of all metrics. I will show you three ranges to help you understand if your own personal metrics are on track or off track:
green zones - when you discover that your metric is in a green zone that means that you have made good efforts in this area. You should focus on other metrics to progress to Financial Independence
amber zones - when you find out that some metrics are in the amber zone that is an early warning sign. I will help you understand the reasons behind this situation. You will have numerous opportunities to improve by completing challenges and working on projects throughout this online course.
red zones - being in a red zone with all or some of your metrics is a red flag. Complete this course and I will show you how to regain control of your personal finance and start your road to Financial Independence.
Download more than 200 slides that illustrate twenty lectures.
This online course comes with more than 200 slides. You can download them and make notes. This is both for your convenience and enhanced learning. You will not need to browse through videos to reflect on previous lessons. All content will be at your disposal at all times. Moreover, taking notes will enhance your learning. It has been proven that taking notes has a profound effect on your learning.
Your Instructor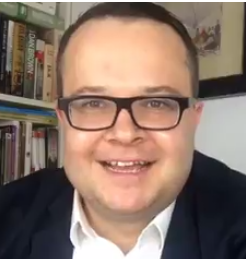 I have been working in the Financial Services Industry for 15 years. Most of this time with Deloitte Consulting. In my last role, as a Director, I have led a group working with Management Boards of banks across Central Europe. Have a look at a selection of top players I have been advising or working for in my corporate life.


My educational background is finance. I have completed a masters program at Cracow University of Economics (Poland). I have continued learning various facets of finance and financial information systems at University of Greenwich (UK). On top of that, I have completed executive studies in retail banking at Wisconsin Madison School of Business (USA).

One million viewers, thousands of followers and hundreds of active students cannot be wrong
I have started sharing my knowledge on personal finance in January 2018. My work has been highly appreciated so far. Have a look at some key statistics:

One million views of my answers regarding financial independence and personal finance
More than 2200 people have started reflecting on their personal finance by taking my online financial IQ test
Additional 1200 people have followed me and seek my guidance on personal finance every day
There are currently more than three hundred active students in my online class
---
In addition, almost 80% of people rated my work as five or four stars. I am making regular efforts to improve so that each of you can get the best out of the learning options that I make available to you.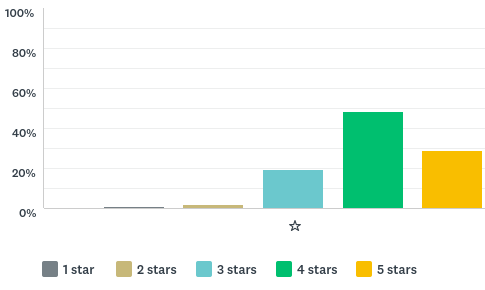 You will also access a bonus lecture that will help you in building passive income through rental properties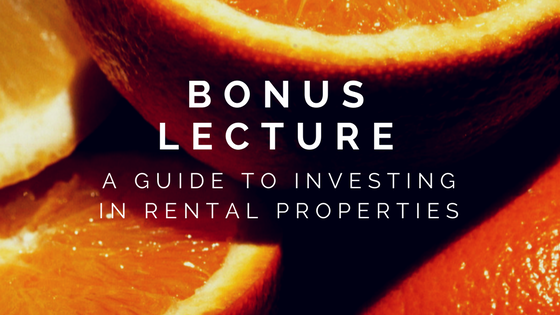 ---
Investing in rental properties is one of many ways of building assets to achieve financial independence. I have reflected on my 10 years of experience to walk you through a structured process you should follow to succeed in this business. I am sharing lessons learned and warning signs. Read on about selection, financing, and management of a rental property. I hope this will be an inspiration to you.

It is time you started working on personal finance and building Financial Independence. The only thing you are risking in not taking this class.
This course comes with a 30-day money-back guarantee. No questions asked. If for any reason you decide that this online learning is not for you, we will refund the full price.

Frequently Asked Questions
When does the course start and finish?
The course starts now and never ends! It is a completely self-paced online course - you decide when you start and when you finish.
How long do I have access to the course?
How does lifetime access sound? After enrolling, you have unlimited access to this course for as long as you like - across any and all devices you own.
What if I am unhappy with the course?
We would never want you to be unhappy! If you are unsatisfied with your purchase, contact us in the first 30 days and we will give you a full refund.